Zornhut
From Scholar Victoria
Wrath Guard
Longsword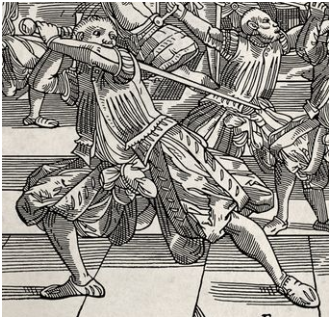 The wrath guard is the natural starting point for attacks such as the diagonal strike from above, though can also be used for defensive handworks such as verschieben.
The right wrath guard (zornhut rechts) is performed with the left foot toward the opponent in a rear weighted posture. The sword is held on the right shoulder with the arms out behind so the point faces somewhat forward, and the long edge up.
The left wrath guard (zornhut links) reverses the leg and hand positions.
Dussack